I am really interested in both these dvd's…anyone else? I gotta get some!


A movie about pools by those that skate them. The first full length film by Nick Gates. Many sick spots with riders such as Jimmy the Greek, Benji Galloway, Salba, Brian Patch, Neil Heddings, Dave Ruel and many more. Quality punk metal soundtrack including Monster Trux, Smogtown, The varukers, Star Strangled Bastards, The Faction, and much more.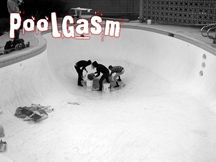 The newest film by Nick Gates. Poolgasm is a look into modern pool skating at its best. More pools, More skaters, More sickness than Hessian Sessions. World Release date is May 21, 2005. You may preorder your copy, will ship on May 21, 2005. First 100 orders recieve special Poolgasm Edition.
Dont know what they are gonna cost…not much…who cares?